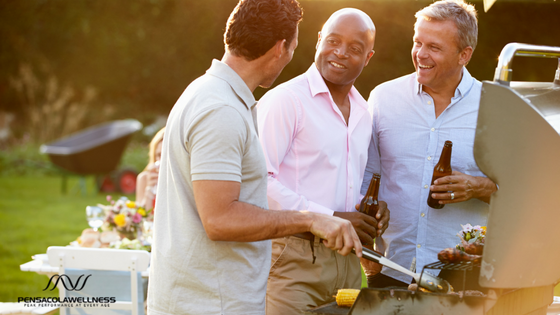 June is the time to celebrate the men in our lives, but not just because Father's Day falls in June. June is also Men's Health Month and throughout the country, health officials are trying to raise awareness about the importance of yearly doctor visits. The purpose of Men's Health Month is to heighten the awareness of preventable health problems and encourage early detection and treatment of disease.
Here are steps men can take each day to improve their health:
Enhance your diet: Add more fruits & vegetables to each meal.
Regular exercise: It doesn't have to be at the gym. Take a walk, go for a bike ride or do some yard work!
Get enough sleep: It's important to your health that you get 7-8 hours of sleep each night.
 Get an annual checkup: Don't neglect your annual checkup. Yearly doctor visits are important to prevent health problems and for early detection.  
Let's encourage the men in our lives to take care of their health, this month and every month!
How can Pensacola Wellness Solutions help?
BHRT
Men approaching middle age and beyond can experience a decline in testosterone levels–known as
andropause
. This results in gradual bodily changes and may be accompanied with other symptoms as well:
Depression

Decreased libido

Fatigue

Poor concentration and memory

Sweating and hot flashes

Decreased muscle mass
Erectile dysfunction

Increased abdominal fat

Breast enlargement (gynecomastia)

Sleep disturbance

Bone loss

Aches and pains
Signs of andropause may begin as early as age 35. These changes are normal, but hormone deficiency doesn't have to alter how you live your life. Hormone replacement therapy has shown to be beneficial to your health, vitality and anti-aging.
Male hormone solutions
do exist. Bioidentical Hormone Therapy is the most natural, effective way to resolve the hormone fluctuations caused by aging and the external environment around us. Derived from natural ingredients, bioidentical hormone therapy medications are designed to perfectly replicate the chemicals in your body that regulate hormone function allowing for better control of hormone symptoms. Hormones affect our brain, heart, bones, muscles and reproductive organs. They are essential to regulate the activity of cells and tissues. Hormones work best when they are balanced, but fluctuations are a natural part of life. Regulating hormone imbalances is key to ensuring your body stays healthy long in to old age. There are a few key signs that we can watch for, but scheduling a consultation with a hormone expert should be your first step in addressing hormone imbalance. Pensacola Wellness Solutions specializes in accurately addressing hormone imbalance symptoms by creating custom tailored hormonal treatment plans specific to your needs. Learn more
here
!
PRP
PRP Therapy is an all-natural, anti-aging option that can be used to restore your thinning hair, enhance your sex life and improve or even cure urinary incontinence! Platelet Rich Plasma is a concentrated, natural product created from your own blood. Platelets are the cells in the blood that help tissue to heal and grow new cells. When PRP is injected into specific areas of the skin and body, it acts as a matrix that promotes your own collagen to grow and regenerate tissue. At Pensacola Wellness Solutions, we offer
PRP therapy
for both hair restoration and sexual rejuvenation.
PRP Hair Treatment
Do you have visibly thinning hair, weakening hair strength, a decrease in hair volume or a loss of scalp coverage? You may be a candidate for PRP Therapy for hair restoration. PRP for hair loss is a proactive hair rejuvenation option that is a simple, safe and quick outpatient procedure. Learn more
here
!
PRP Shots for Sexual Rejuvenation & Enhancement
If you're looking for a natural, long lasting solution for improved sexual pleasure and performance, Pensacola Wellness Solution's
HIS Shot™
may be the answer you're looking for. Results can last up to a year or even indefinitely if proper protocols are met. Here are just a few of the results seen by the thousands of men who've tried PRP Therapy to enhance sexual performance:
Reduction in or reversal of Erectile Dysfunction

Increased sexual arousal and desire

Stronger, longer, more frequent orgasms

Virtually no discomfort or pain

No allergic reactions

Longer, harder, more sustainable erections

Heightened pleasure and sensation

Many of these benefits are experienced immediately after receiving the injection
---
Let Pensacola Wellness Solutions help you and the men in your life stay healthy! Call today to
schedule your appointment
at 850-791-6010.