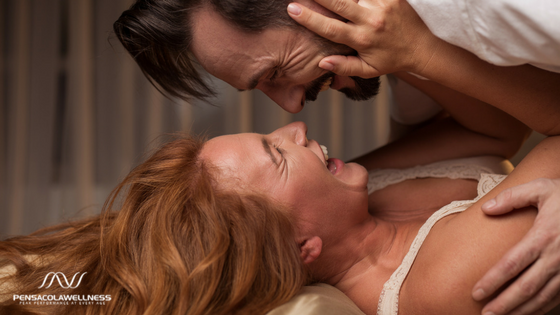 It is common for people to discuss their health issues, but it is rare for people to speak about their sexual wellness. Often times, many men and women who experience sexual dysfunction of any sort are afraid to discuss their concern with anyone. However, at Pensacola Wellness Solutions, sexual wellness is something we often help our patients with.
Did you know that when you age your sex life can decline for a variety of reasons? As you reach your late 40s and early 50s, it is possible that your desire to have sex will decrease and when you finally do, it may not be as rewarding as it once was.
PRP therapy
is a natural approach to sexual rejuvenation. Although the procedures are slightly different for men and women, both utilize platelet rich plasma (PRP) injected into specific locations in the vagina or on the penis to enhance, rejuvenate and restore function.
These growth factors that exist in platelet rich plasma are naturally found in your body, and actually stimulate the production of new tissue around the injection sites. Damaged cells are repaired and existing cells are given a longer life. The results are seen almost instantly and continue to develop over the coming weeks.
PRP Therapy for Women | HERS Shot™
As a revolutionary, natural and non-surgical procedure, PRP for sexual rejuvenation may just be exactly what you are looking for to take your sex life to a higher level. PRP therapy for women's sexual rejuvenation was designed to renew and rejuvenate the vaginal area. After a numbing cream is applied, your body's own healing agents (platelets) are inserted just beneath the skin. The platelets are a component of your blood's plasma and they stimulate cell growth and repair.
If you are among the millions of women in the United States that are dealing with urinary incontinence or low libido, our HERS Shot™ could be the solution for you!
Explore these amazing benefits offered by just one HERS Shot™:
Cure urinary incontinence
Increased sexual arousal and desire
Improved natural vaginal lubrication
More frequent, stronger orgasms
Helps to eliminate stress incontinence (more than 90% of cases are fully resolved)
Decreased pain during sex
PRP Therapy for Men | HIS Shot™
Just like PRP therapy for sexual rejuvenation for women, PRP therapy for sexual rejuvenation for men takes advantage of your body's own growth factors. A simple blood draw is done and then the growth factors are separated out and reinjected. There is little to no pain and only a short period of mild discomfort during this safe, natural and brief procedure.
If you're looking for a natural, long lasting solution for improved sexual pleasure and performance, Pensacola Wellness Solution's HIS Shot™ may be the answer you're looking for. Results can last up to a year, or even indefinitely if proper protocols are met.
Many of these benefits are experienced immediately after receiving the injection:
Reduction in or reversal of Erectile Dysfunction
Increased sexual arousal and desire
Stronger, longer, more frequent orgasms
Virtually no discomfort or pain
No allergic reactions
Longer, harder, more sustainable erections
Heightened pleasure and sensation
If you are struggling with your sexual wellness, Pensacola Wellness Solutions can help. PRP Therapy can be tailored to suit your individual needs. Learn more about PRP Therapy for Sexual Rejuvenation here or schedule your consultation today by giving us a call at 850-791-6010!